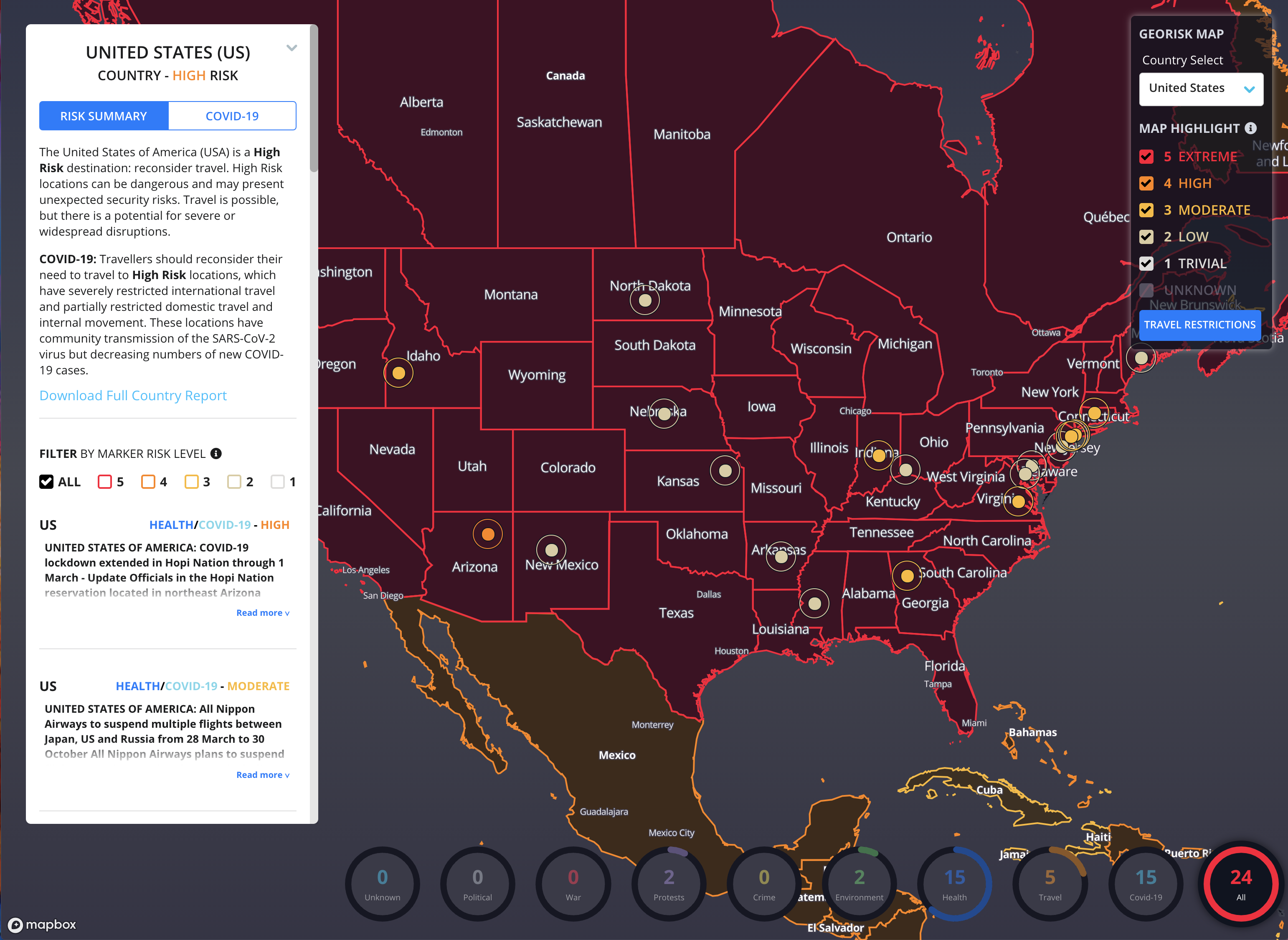 Make the right travel decisions with Traveler Tracker + GeoRisk
Make the right travel decisions with Traveler Tracker + GeoRisk
Meeting the needs of a COVID-safe future will require organizations to make strategic updates to their travel programs. Travel managers and travel arrangers need access to the latest and most reliable COVID-19 travel and health intelligence to optimize their program's performance and keep their traveling workforce safe, empowered, and informed.
Navigating the fast-changing world of national and regional border restrictions, vaccination and testing requirements, quarantine measures, and sporadic health outbreaks will underpin the safety, efficiency, and effectiveness of every business travel program for the foreseeable future.
That's why CTM has designed the Traveler Tracker + GeoRisk tool. It provides the most up-to-date, reliable, and relevant COVID-19 travel intelligence* to support businesses and travel management stakeholders to get back to business travel with maximum confidence.
COVID Risk Management & Global Travel Intelligence
Traveler Tracker + GeoRisk tool provides real-time global data and information relating to COVID-19 travel restrictions such as border controls, quarantine requirements, travel permits, and destination health insights in one location.
Information is presented via an interactive global map and itinerary-based trip search, providing users with complete visibility of country-level and on-the-ground travel requirements and critical health information.
Traveler Tracker + GeoRisk is a powerful trip planning tool that enables users to identify a destination's:
COVID-19 cases
Government policies
International and domestic flight information
Entry and Border Control requirements
COVID-19 testing
Health and travel documentation
Tracing apps
Quarantine requirements
Mask requirements
Exit information
Internal restrictions
This information, and more, are also available to download and share with travelers as an electronic travel guide.
Customized Travel Advice
Traveler Tracker + GeoRisk users can also pinpoint the specific travel requirements for their travelers using the 'Travel Restrictions' itinerary search tool for a fully customized COVID-19 travel overview based on:
Origin
Destination
Travel dates
Traveler's passport/nationality
"As travel returns, it is imperative that our customers have made important updates to their travel program that are focused on the safety and well-being of their travelers. By providing access to COVID-19 travel restrictions and pre-trip intelligence, travelers can feel confident that they are well prepared and safe as they return to the new normal in travel," said Kevin O'Malley, CEO, CTM North America.
"CTM's risk management solutions allow travelers to make informed, responsible travel decisions that enhance their organization's focus on duty of care. When travel returns, it will certainly look different, and that means all travelers need to be well prepared," O'Malley said.
To learn more about CTM's Traveler Tracker + GeoRisk tool and other technology supporting safer, more effective business travel, fill out the short form below, and our team will be in touch.
*CTM Traveler Tracker + GeoRisk tool integrates risk data from Riskline and Sherpa.
Take a tour of the Traveler Tracker + GeoRisk Tool.
Contact our team today for a demo.